Meet Our Donors
We thank all our planned-gift donors for their generous support. Here are some of their stories.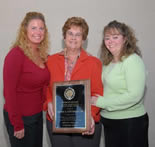 Susan Cotterall Homer '88
One of the greatest accomplishments of Neumann University for me personally was the program for adult women students initiated to allow adult students to earn their bachelor's degree faster utilizing 6-credit courses in an evening format meeting one night per week. Neumann University has experienced significant growth all the while staying keenly focused on offering an education based on the concepts that knowledge, while valuable in itself, is to be used in the service of others, and that learning is a life-long process.
My life at Neumann has been rewarding. I earned my undergraduate degree in Psychology in 1988, served on the Alumni Executive Board as Vice President, my daughter joined me as part the Neumann University alumni in 2000 and I was awarded the outstanding alumni award in 2007. But the most rewarding part of my relationship was naming Neumann University in my will. By naming Neumann a beneficiary of my will, I am able to provide now for a future gift to Neumann University.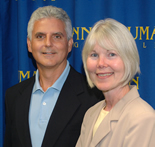 Janet and Joe Massey
I always knew that Neumann University would be remembered in my will because to me Neumann University is home. The Sisters of St. Francis, the founders of Neumann, are a group of women that I admire very much. I have worked in many environments, private sector, public accounting, but I have never experienced the genuine caring of others that I am witnessed to every single day here at Neumann. Neumann University has a very special place in my heart.
When I was diagnosed with breast cancer, I was devastated. I cannot imagine how I would have survived the surgeries, chemo and radiation if it were not for the caring people in my life and the support and prayers from the Neumann University community, especially the Sisters of Saint Francis. After my recovery I knew I must do something to make a difference in peoples' lives that have been devastated with breast cancer and, at the same time, show my love and commitment to Neumann University. So in 2002 I established the Janet Massey Breast Cancer Survivor Scholarship Fund. The purpose of the scholarship fund is to provide monies to help women diagnosed with breast cancer and family members of breast cancer survivors replace the fear and doubt cancer brings into their lives with knowledge and hope for the future. I would like to quote from one of the funds recipient's thank you letter, "It is heartwarming to know that in some small way, my mother's spirit and fight are helping me pursue my dreams of an education".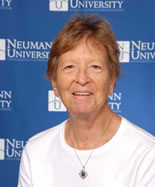 Judith B. Wentz '75
When I reflect upon my life this far, I cannot do so without reflections on the influence that Neumann University has contributed. When I entered Neumann University, I realize now, that I was at a pivotal point in life. The mission of the college, the excellent educators, and the Franciscan spirit shaped me in such a way that I have carried these gifts with me in my day to day life as a parish nurse. I continue to support Neumann University simply because I hope that every student will be shaped from the high quality of education that shaped my life.